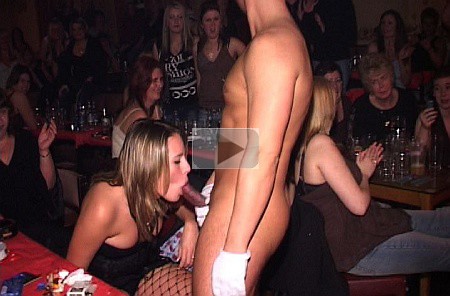 Type of Cfnm: Bachelorette Cfnm Strippers
Downloadable movies: Yes
Click Here For Site
Outlandish scenes filmed at real life bachelorette parties with women behaving VERY badly! When the guys are away the girls will play, and in these superbly rude shows the women aren't shy to suck and wank the naked males cocks. Astonishing insight into what really happens when women get together and watch male strippers. The site featured in a recent divorce case when the husband saw footage on the internet!
Extreme Cfnm gave birth to the web's cfnm stripper sites, and every kind of woman is featured in this site, from wide-eyed 18 year old teens, to 20 & 30-something moms, to mature women of 60+ years old who have seen it, got the book, the t-shirt, and most likely the pussies to prove it – though thankfully we don't see any of that 😀
Navigation through the site is not ultra easy, but at the same time it's not exactly that hard either, so no problems getting around the site to the cfnm content you want. Design wise it's pleasing to the eye, with nice contrasting colors that won't give you a headache. Content is plentiful, with it being split into categories such as handjobs, blowjobs, fucking (these are behind the scenes movies that the guys shoot of their audience conquests who ask to stay behind after the show has finished), strippers and the shows, members pictures, general performances, and bonus archived material also.
The bachelorette parties are filmed in genuine bars & clubs in the UK & select areas of Europe, and attendance is welcome to all females over the age of 18, so you get a mix of young and old, all of whom get very much into the swing of it, and seem to want to 'outdo' each other!
Extreme Cfnm is run by one of the strippers who performs – I'm sworn to secrecy on which one it is though, sorry! I can tell you he is married, and his wife must be one very understanding lady to know her husband has dozens of women clamouring to grab hold of, and suck her husband's dick every time he performs!
A definite thumbs-up for this site, they deserve the title of 'mother of the cfnm stripper sites' – that's a definite.
Put simply, this is the mother of all stripper cfnm sites. The site that really kicked off the cfnm phenomenon as we know it, this is the genuine article – 100% real amateur women, most of which are someone's wife or girlfriend. And all having the time of their lives with big dicked male strippers without their partners knowledge (well, we presume that's the case for the majority!). Extreme cfnm is extreme value for money.
Our Rating: 9.7/10
Exclusive Content 10/10
Quality Content 10/10
Quantity Content 10/10
Cfnm Content 10/10
Movie Quantity 10/10
Movie Quality 9/10
Downloadable Content 10/10
Storylines 9/10
Content Resolution 9/10
Value For Money 10/10
Total Score 97/100