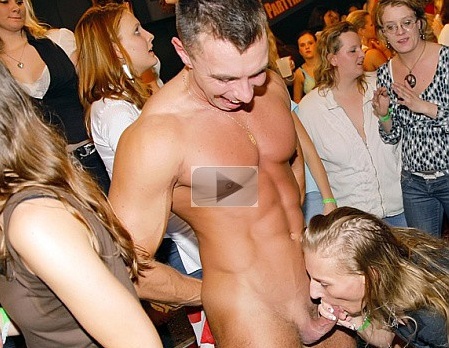 Type of Cfnm: Hardcore Cfnm Parties
Downloadable movies: Yes
Visit This Site
Hardcore cfnm scenes filmed inside Euro cfnm parties that are for 18-25 year olds only. Beautiful girls that not only wank and suck the strippers off, but some of them fuck the strippers in the middle of the dancefloor or onstage while the other fully clothed females look on and shout their encouragement. This is the only cfnm party site of it's kind to show the audience giving male stripper cumshots.
Cracking Cfnm site with oodles of 100% original and exclusive cfnm content, in extremely high quality resolution. Everything is laid out for ultra simple navigation, and it is easy to find exactly what you are looking for within just a couple of mouse clicks. All content is fully downloadable for eternal viewing on your hard drive. The only thing we scored low for was the storylines, purely because the dialogue is in Czech, and filmed at private parties where the music sets the scene for the girls that attend these bachelorette parties, and scenes where many of the girls get naked (although there are plenty of clothed females looking on), but for cfnm afficionados, this makes little real difference to the enjoyment of the site.
PartyHardcore is the in your face cfnm stripper site that knocks your breath away with it's colorful settings, packed nightclubs of 100+ clothed females all eager to see male strippers get their kit off, and in many cases gigantic orgies with those who aren't as uninhibited as some preferring to stay fully clothed and watch the action on stage or as the guys mingle with the crowd. There is an absolutely huge library of pics and movies from the Party Hardcore crew, the pics are of the highest quality, and a very good size. Movies are available in 1 minute clips, and full downloads in either wmv or avi format for ease of burning for viewing on your DVD player. There are no restrictions on viewing any of the content whatsoever.
Navigation throughout the site is a breeze, with virtually zero chance of getting 'lost' and hunting around to find where you were, or wanted to be. Design wise it's slick without being overly 'gimmicky', and doesn't give you the headache that some paysites manage to wreak upon you with poor color combinations and flashing images. At the time of writing (27th June, 2007), there are 33 pages of content, with 5 scenes per page, so that's over 150 image sets of an average of 180 pics per set, and 150 movies at an average of 16 minutes per movie. Over 27,000 pics and more than 40 hours of exclusive cfnm footage puts them right at the top of the cfnm pile when it comes to the quantity of content. With it being such good quality, it's easy to see why this site is one of the foremost in their niche.
There are however a lot of fucking scenes – some are 'plants' to encourage the real guests to let their hair down and join in, of which there are very many who do just that – the trick is to see which of the girls having full sex get fucked by strippers wearing a condom – these are the ones that haven't been tested by the Party Hardcore crew. Whie the fuck scenes aren't strictly cfnm, the sheer amount of clothed females looking on (and 99% of them are very hot 18+ teens) and having a fondle or suck on the strippers' cocks keeps this site firmly in the clothed female naked male genre.
The bachelorette parties are filmed in genuine nightclubs, with adverts placed in local publications and pub/club flyers to get the audience. Typical numbers of the audience are 120 – 150. Because these are genuine bachelorette parties, the genuine enjoyment of the crowd, and indeed the strippers themselves as they perform, ensure that anyone who enjoys mutual cfnm, and the more 'exhibitionistic' side of it will not be disappointed.
All in all this is a high quality cfnm site that really hits the spot. Party Hardcore also run other sites for which they produce all their own content, and if you are looking for a real bargain, that option is the better one, as you get access to all sites in their network, which contain many more cfnm scenes in different scenarios.
To sum up, this site (and their whole network) get a certified thumbs-up with only the most fussy of surfers likely to feel they have purchased anything less than a truly superb cfnm membership.
Our Rating: 9.1/10
Exclusive Content 10/10
Quality Content 10/10
Quantity Content 10/10
Cfnm Content 8/10
Movie Quantity 9/10
Movie Quality 9/10
Downloadable Content 10/10
Storylines 5/10
Content Resolution 10/10
Value For Money 10/10
Total Score 91/100