Now *that's* what I'm talking 'bout

We all know bachelorette parties can get a bit crazy, hell, we know what stag parties are like, and women are no different – some are pretty tame, but now and then they are gonna go for it big style just as much as the guys, and the advantage of cfnm is that unlike a lot of female strippers who allow minimal, or selective touching, and even then purely for the money, male strippers are fine with having their cock stroked or sucked. Try sticking a finger or two in a female stripper and see how far you get lol.
Anyway, I personally think it's great that women can have a grope, lick, suck, or whatever, on some stripper's cock, and feel safe in that environment with no pressure, and the other attendess also seeing it for what it is – good honest adult fun, no more, no less. With that in mind it's always been fun for me to watch uninhibited women having a good time in a relaxed atmosphere without any hangups about being seen as somehow slutty, so it's with huge pleasure we show the video below, of a soon-to-be bride and her friends enjoying a special workplace treat before the big day. Enjoy!
(Video courtesy of Cfnm Dancing Bear)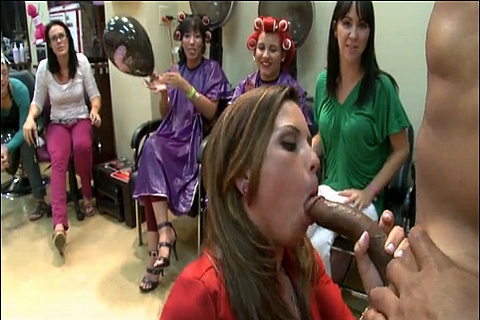 Related Cfnm Articles